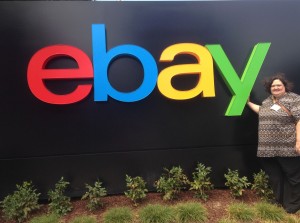 What a terrific day at eBay headquarters!  Dubbed eBay Day One, we celebrated day 1 of eBay being it's own company again.  I cannot give details about what is coming (NDA) but I will say I am very pleased with their plans for us sellers!  Probably the first really good news since the defect system was put into place.
It was pretty wild being "celebrated" by the company.  We walked out to lots of high fives, WOOHOOs and clapping.
Surreal, but fun!  50 sellers, one from every state.
Oh lord, it was hot out there today!  Want to see proof?
Yup, that's me holding the NASDAQ Closing Bell Crystal!  And looking quite, um, glisteny, doing it.  It was an oven out there!
Here are some news stories about today's event and eBay's new CEO, Devin Wenig
http://www.nasdaqomx.com/newsroom/marketbellceremonies#4791
http://www.foxbusiness.com/technology/2015/07/17/whats-left-ebay-after-shedding-more-than-half-its-business/
http://mashable.com/2015/07/19/ebay-paypal-divorce/
http://www.cnbc.com/2015/07/20/cnbc-exclusive-cnbc-transcript-jon-fortt-speaks-with-ebay-ceo-devin-wenig-today-on-cnbcs-squawk-alley.html
https://www.internetretailer.com/2015/06/02/can-devin-wenig-make-ebay-cool-again